An open-air climbing gym
We have known the beauty of being in an open space where you can see the sky since our first excursions. For this, we have created a climbing gym in Cagliari, Sardinia, with a unique view over the city. Here you can do bouldering, rope climbing and fitness, all in a functional and well-kept space with qualified instructors.
Everything you need for indoor climbing, but with an open view of the sky on the horizon!
Come and discover the beauty of climbing!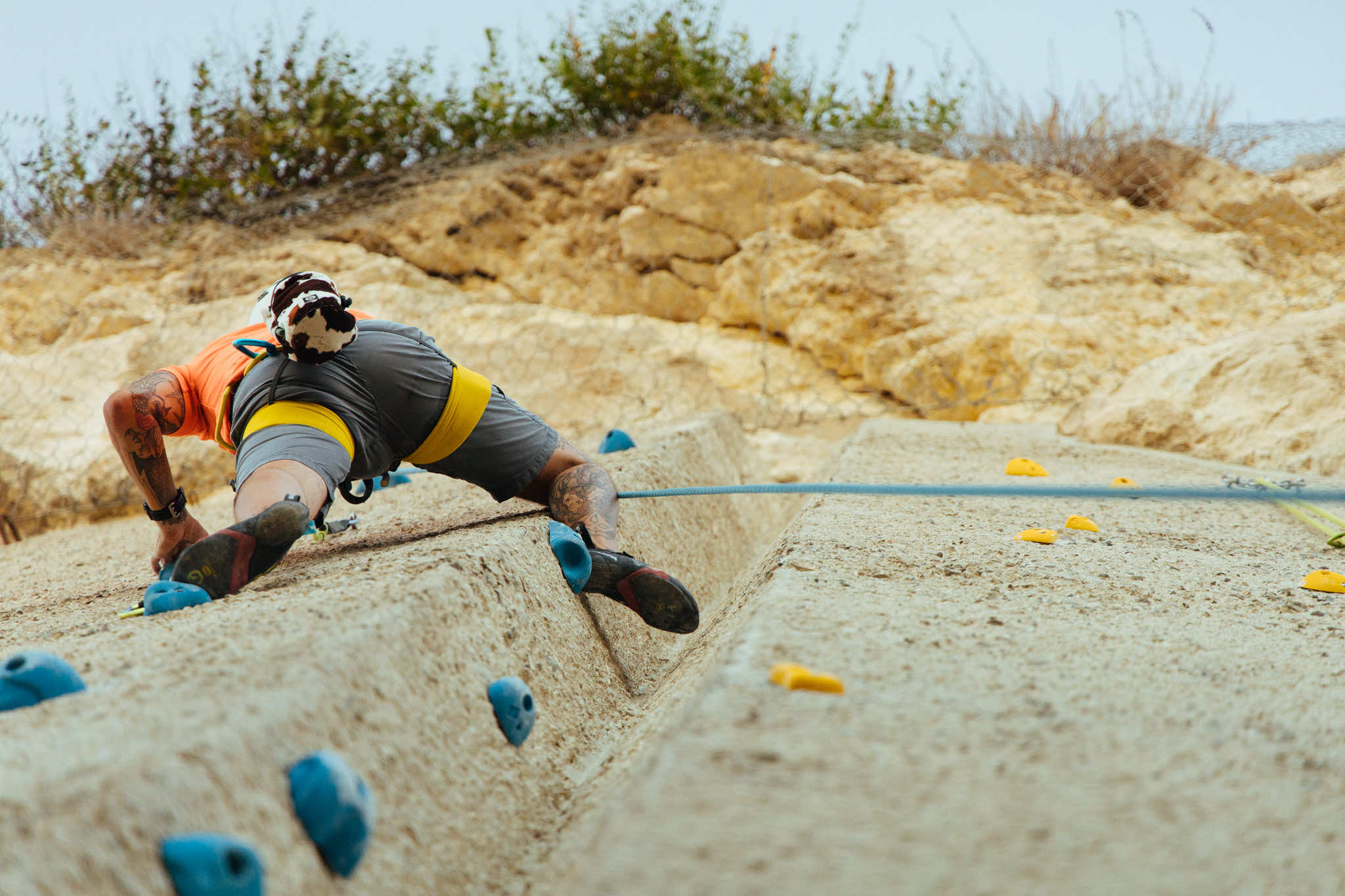 Wall
Lead and top-rope climbing
With 23 routes from 4c to 7b and two entire sectors dedicated to rope climbing. The walls of S'Avanzada host the largest certified free climbing facility on the island.
Boulder Area
40 blocks and circuit board
The bouldering facility offers 85 square meters of wall at various inclinations (25°- 5°- 30°-15°). This hosts about 40 blocks and a circuit area of ​​every style and difficulty.
Training area
Area equipped for free body and fitness
A large equipped area is dedicated to bodyweight training (yoga, calisthenics, etc.), on our characteristic green lawn.
Here you will find the tools to do your pre-workout warm-up or a muscle strengthening session with bars, elastic bands, weights and kettlebells.
The specific training area for climbing could not be missing: various beams (beastmaker 1000), symmetrical holds and campus boards.
Would you like to know more?
Frequently Asked Questions
How many rope routes are there?
There are 23 routes equipped for the ascent from the first (lead) and second (rope top).
How high are the rope routes?
The stops have a maximum height of 13 meters with a development of up to 15 meters.
How can I be sure of the safety of anchors and equipment?
All anchors and delays are certified for sport climbing.
What is the difficulty of the easiest and the hardest route?
Routes can change over time. At the moment the easiest is graded 4c and the hardest 7b.
How do I recognize the difficulty of the blocks on the boulder?
The difficulty can be understood from the color of the ribbons with which the starting holds and the top of each block are marked. From easiest to hardest: white, green, blue, red and black.
In the bouldering facility, how many blocks and paths are there?
The number of blocks is not constant as new ones are regularly drawn. Broadly speaking, there are about 40 blocks and 5 circuits in the structure.